Department of Cemented Carbides and Composite Materials Production Technology
PR profile

Technology offer

read more download
Gradient structures improve service life of cemented carbide articles
At present sintered carbide articles are produced, which exhibit homogeneous structure and properties. In operation, however, an article undergoes a combined action of tensile, compressive, cyclic, thermal, etc. stresses that generate simultaneously in various sections of the article.

The analysis of stress fields, which generate in the article volume, shows that the service life of sintered carbide articles can be increased by a factor of 2 to 5, if they are produced with properties varying throughout the volumes. This is achieved by the development of a gradient structure.

The attempts to make gradient-structured sintered carbide articles have been undertaken since the fifties. However, the great majority of sintered carbide articles produced are still of homogeneous structure and properties.

Nowadays, we know perfectly well that the articles with gradient structure will form a future generation of sintered carbide articles. Now the question arises: why the makers have not ruled the market with gradient-structured carbide articles?

The answer is simple: the makers have no efficient technology, which allows them to make gradient structures and above all to control the process of these structure formation.

We believe that this problem can be solved by the use of the phenomenon of metal melts imbibition by pore-free composite materials (MMI-phenomenon) discovered by Dr. A. F. Lisovsky [1-3].

The MMI-phenomenon was used to make sintered articles with a binder content that varied throughout the volume. Gradient structure materials are characterized by high physico-mechanical properties (Fig. 1). The melt being imbibed can introduce into a sintered article various components, e.g., Ti, Zr, Hf, V, Ta, Nb, Cr, B, Si, Ni, Al, Ru, Re, Cu, etc., thus alloying the article locally . By using metal melts of various compositions, multilayered materials can be obtained. To make gradient structures and properties throughout the article volume, one should control the process of the metal melt imbibition. Theoretical and experimental studies permitted us to develop a technology for production and control of the process of gradient structure formation in a composite article volume [3 - 6]. The new technology involves a high-temperature treatment of articles with metal melts (MMT-process).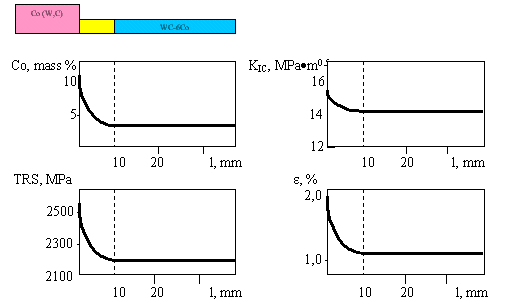 Fig. 1 Distribution of Co and physico-mechanical properties along the length of WC-¡Co specimen after the interaction with Co-melt for 120 s. e is the critical deformation
The MMT-process comprises the analysis of stresses, which appear in a carbide article in its operation, computer-aided modelling of a gradient-structured article, solution of differential equations for the liquid phase migration and diffusion, optimization of conditions of a composite article treatment with metal melts and the production of sintered articles with gradient structures (Fig. 2). The MMT-process permits the production of unique cemented carbide articles (Fig. 3-5).
Fig. 2 Main stages of the formation of gradient structures following the MMT process
The MMT-process allows us to form gradient structures at a micro- and nanolevels, and thus to hinder the development of fatigue cracks in cemented carbide articles. We have used MMT-process to form gradient structures in high-pressure apparatus (Fig. 3), drawing dies (Fig.4), plungers (Fig. 5), etc.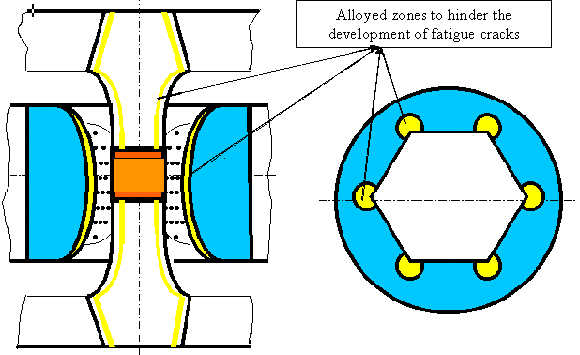 | | | |
| --- | --- | --- |
| Fig. 3 Gradient structured components of high-pressure apparatus for diamond synthesis | | Fig. 4 Drawing die having gradient srtructure zones |

Fig. 5 Plunger having a gradiend structure
The MMT-process can be used to form gradient structures in drilling and metalworking (cutters, milling cutters, drawing dies, rolls, etc.) tools as well as in articles (bushes, plungers, pistons, dies, etc.) for machine-building industry. Field tests have shown, that these articles were 2-5 times more durable than those with homogeneous structures (Fig. 6).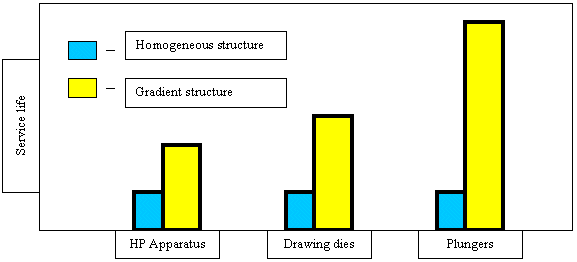 Fig. 6 Diagrams of service life of cemented carbide articles
At present thorough investigations are being performed at the Institute for Superhard Materials on application of MMT-process for making intelligent materials.

Now, the time comes for a wide-spread patenting of articles having a gradient structure. We are ready for joint studies, patenting and production of carbide articles having gradient structures.

REFERENCES
A. F. Lisovsky. Powder Metall. Int. 1987, vol. 19, N5, pp.18-21.
A. F. Lisovsky. Powder Metall. Int. 1989, vol. 21, N6, pp.7-9.
A. F. Lisovsky, N. V. Tkachevko. Powd. Metall. Int. 1991, vol. 23, N3, pp.157-161.
A. F. Lisovsky. Int. J. Heat Mass Transfer,1990, vol. 33, N8, pp. 1599-1603.
A. F. Lisovsky, T. E. Gracheva and V.N. Kulakovsky. Int. J. Refractory Metals and Hard Materials, 1995, vol. 13, pp. 379-383.
A. F. Lisovsky, N. V. Tkachevko. Int. J. Refractory Metals and Hard Materials, 1997, vol. 15, pp. 227-235.
For further information please contact Dr. A. Lisovsky: kvn@ism.kiev.ua