Acoustic emission sensors DISM1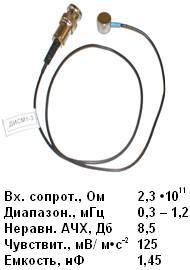 V.N. Bakul Institute for Superhard Materials NAS of Ukraine has developed principally new design of wideband acoustic emission sensors with an frequency range from 200 kHz to 1200 kHz.

The new method of the piezoceramic plates rear side damping of was used. Piezoceramic plates is a sensitive element of acoustic emission sensors.

As a damper the original material composed of particles of WC and TiNi, bonded with epoxy resin was used. The composition of the damper is selected in such a way that its acoustic impedance is equal the piezoceramic impedance and damping properties has maximum value due to using of martensitic transformation TiNi with the energy absorption. Due to this the damping properties were increase 1.5-2 times. In total it is possible to reduce the resonance peaks, exclude reflected signals from the back side of the plate and the sensor body, to reduce the irregularity of the amplitude frequency characteristic from 23 dB to 8.5 dB.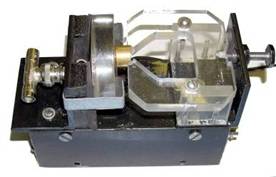 The original charge amplifier was designed for accommodation of sensors and electronic equipment with differential current inputs, implements optimal scheme include sensor and preamp with a minimum of "signal - noise" ratio.

The system for AE sensors grading was designed. It allows to explore the amplitude frequency characteristic of AE sensors and their characteristics have been certified using a PC.
References
04 074, Kiev-74, str. Avtozavodskaya 2.
Phone: 8 (044) 430-82-45
E-mail: ldevin@ism.kiev.ua
Head of the Laboratory no 18/1, ISHM NASU, Prof. Devin L.