Polishing tools "Aquapol"
for the implementation of the process of precision polishing of glass products
Certificate of Ukraine ¹ 13366 of the trademark registration with the priority of 30 August 1999.
Wheels (tape 6À2Ò) based on Aquapol-5 and Aquapol-7 composites.
1. Main purpose:
Precision polishing of silica-containing glass optics to meet the highest engineering specification on the polished surface condition (laser mirror substrates, elements for laser devices, components for instrument optics, etc.).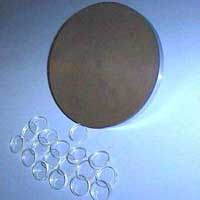 2. Main dimensions:

1 - abrasive layer; 2 - body
3. Characterization of the optical component surface:
Polished by the procedure developed at the ALCON Concern, which involves the successive application of Aquapol-5 and Aquapol-7 - based tools

| Characterization of the polished surface | Aquapol-5 | Aquapol-7 |
| --- | --- | --- |
| 1. Polished surface roughness Ra, nm | 1,0 - 1,5 | <1,0 |
| 2. P-class of optical purity of polished surface according to GOST 11141 | no worse than 0-40 | 0-10...0-40 |
| 3. Reflected light scattering factor Kv, %, (l=632.8nm) | <=0,003 | <0,003 |
4. Polishing rate Q of wheels based on composites:
Aquapol-5: Q=0,8-1,0 mkm/min
Aquapol-7: Q>=0,6 mkm/min