Chapter 4
ACTIVITY of LABORATORIES and DEPARTMENTS
The achievements that characterized activity of the Institute for Superhard Materials, the challenges that were issued by the government of the country, first of all, all complexity of fulfillment lay down on the shoulders of the employees of the laboratories and departments, where the ideas were brought up "to mind", and technology - up to the commercial production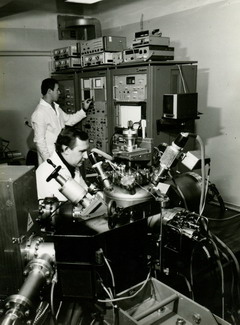 Аналитическая установка ЛАС-3000 для комплекса физических исследований состава и свойств поверхности зерен и кристаллов синтетических алмазов и других сверхтвердых материалов в сверхглубоком вакууме.
Certainly, the role of the person, wise, polyhedral, strong, seeing on many steps forward, - is very important. Just the strong confidence, understanding of a problem as a whole determines movement, harmonizes circumstances, when the person resolutely takes upon oneself management and full responsibility. And the fulfillment is on the conscience of the workers..
In due time the president of USA Т. Roosevelt has neatly written:
«There are enough critics..., which can indicate, where has stumbled the strong or where the creator of kind businesses has made not everything, that could.
Here it is possible to trust only the one who stands on the arena; whose face is soiled with dirt, then with blood; who valiant goes to his objective, again and again makes an error and concedes; who has learnt great enthusiasm and boundless fidelity; who without residual give oneself up to the right business... Who at the best learns pleasure of great achievements, and in the worse case, if he suffers failure, it comprehends him in the heat of brave struggle and he never should divide fate with theme cold shy souls, which do not know neither victory, nor defeat ».
Right at the beginning of origin of synthesis of diamonds, and generally of hard alloys, there is a work of separate laboratories and departments, what was mentioned above. In this chapter there is a speech if not about everyone, but about many employees, which worked in laboratories. During creativity, being altered, being integrated, being transformed in the correspondence and in accordance with modification of problems, facing to institute, despite of complexities, departments and the laboratories, directed by talented researchers, determined main directions of work.
The collective of the institute are scientific employees, designers, working and engineering technological staff was a unite harmonious team.
Constant perfecting of technological processes of synthesis of superhard materials, creation of new exemplars of tools on their basis and broad application of them in various branches of the national economy on thousands of the industrial enterprises have allowed the Soviet Union to leave behind foreign countries.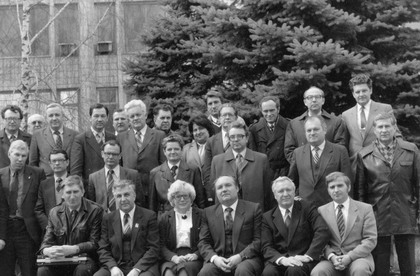 Учёный Совет института в 80-х годах.